Fill out our CPOA Resident Feedback Form
CPOA MEETINGS RETURN TO THE NEW SENIOR CENTER
Please attend our September 13, 2016 meeting at 7:00PM at the Garden City Senior Center, on Golf Club Lane, for a public service presentation. The CPOA will sponsor an informational lecture on the Zika virus by Dr. Bruce Polsky, Chairman of the Department of Medicine at Winthrop- University Hospital. Dr. Polsky will bring us up to date on the latest information regarding this Zika epidemic. There will be a Q & A following his talk to follow up. All residents are invited to attend Dr. Polsky's discussion.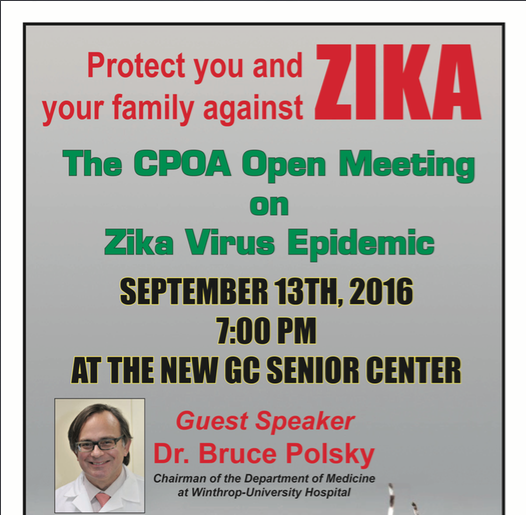 "ARE YOU PLANNING A RENOVATION TO YOUR HOME?
The short "guide" below will 

provide you and/or your contractor
with up-to-date information regarding "when" and "what for" 
you 
will 
need to apply 
for a Permit 
from the Garden City Building 
******************************************************************************
Helpful Hints from Your Neighbors
Please contact us if you have solutions to problems that your neighbors may be able to use.
If anyone else has any information, comments or concerns, please email the CPOA at info@gccpoa.org.
Old news! You can now pay dues with any credit card. Please fill out the information requested below and click pay now.
Membership categories include:
Associate Member- $20, Senior Member(over 65)- $15, and Lifetime Member- $250.
All major credit cards accepted.
---
---
For additional information, please like us on Facebook: www.facebook.com/GCCPOA
---

High School Ambassador Program